IncrediMail 2 Export to Outlook Express
There is available IncrediMail 2 Converter Free Demo Edition for users to know about IncrediMail 2 to Outlook Express Conversion!
Now IncrediMail 2 users can perfectly achieve simple IncrediMail conversion to Outlook Express with Advance Tool. The Program would effectively provide advance facilities to Export IncrediMail 2 to Outlook Express without missing out on any information. For saving the time of users from one by one conversion processing, there is available batch approach to export unlimited IncrediMail 2 files to Outlook Express in one go.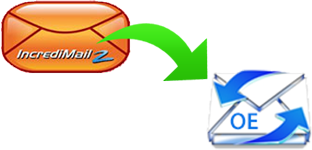 To Convert IncrediMail to Outlook Express, the software supports two steps. You can follow them and enjoy the conversion of IncrediMail 2 to Outlook Express –
Convert IncrediMail 2 to EML file format for Outlook Express
Download the IncrediMail to Outlook Express Converter & launch on your computer screen then you will see that the software has already located your IncrediMail files for conversion.
Start Downloading Demo Version
After downloading & Installing the software, Now follow the given steps for exporting IncrediMail 2 Emails –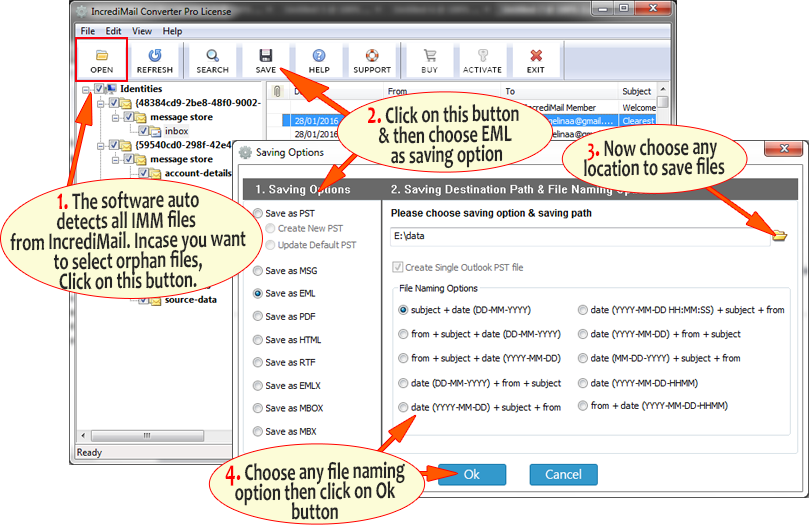 After achieving all IncrediMail 2 files into .eml format, the next step is to import all converted files into Outlook Express –
Import Converted Files in Outlook Express
Now Open Outlook Express and go with File Menu >> Folder >> New, create a new folder in Outlook Express with any name –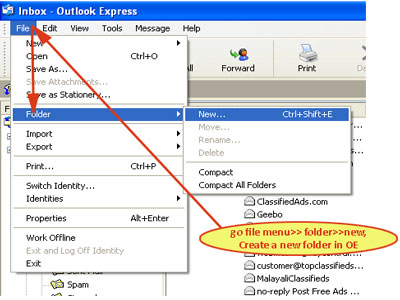 Then Navigate to the store location of converted files and select all. Now drag them & drop into the newly created folder.

Now you can easily find all IMM files from IncrediMail 2 to Outlook Express with all details.
Facts about IncrediMail 2 Export to Outlook Express
No doubt that IncrediMail 2 is good for making creative emails with animation, attachments, several designs, pictures, etc. several users are also using it as per their requirements but Now several users would like to switch from IncrediMail 2 to Outlook Express. Here, we will explain some few facts about this conversion.